FOR IMMEDIATE RELEASE 
Troy Air Evac Base Receives New Aircraft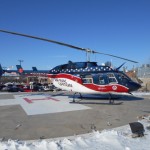 The Troy, Mo., Air Evac Lifeteam base has a new addition, and Base Pilot Supervisor Theo Kulczak could not be happier. The base opened in March 2002, and just recently welcomed a newly upgraded Bell 206 LongRanger.
"The decision to upgrade the aircraft was made with an eye toward enhancing safety," Kulczak said.
The new aircraft is equipped with state-of-the-art technology, including the Cobham HeliSAS/Autopilot and Garmin 500H glass cockpit. The autopilot and Stability Augmentation System enhances flight safety by reducing the pilot workload and increasing flight stability. Together with the Garmin 650 and 500H (glass cockpit), the pilot is able to focus on other things outside the aircraft.
"We are excited that the company continues to invest in the local community by adding upgraded aircraft with the addition of important safety enhancements," Kulczak said.
About Air Evac Lifeteam
Air Evac Lifeteam, an air medical service, provides rapid access to definitive health care for those who live in medically underserved areas. Flight crews, consisting of a pilot, flight nurse and flight paramedic, are on duty 24 hours a day, seven days a week to respond to the scene of an emergency, or provide transportation between medical facilities. Air Evac Lifeteam currently operates 125 bases in 15 states. For more information, please visit www.lifeteam.net, or like us on Facebook.
About AirMedCare
Air Evac Lifeteam is a membership-supported air ambulance service that is part of the AirMedCare Network. AirMedCare is America's largest air medical transport membership network, providing emergency access to the highest levels of care for its 1.5 million subscribers. The AirMedCare Network combines the membership programs of four leading air ambulance operators: Air Evac Lifeteam, REACH, and Med-Trans Corporation. For more information about memberships, visit www.airmedcarenetwork.com, or call Membership Sales Manager Roy Woolsey at 636.358.8475.