Joining the Troy Area Chamber of Commerce is a good investment for your business!
Make New Business Contacts
Networking at Chamber events helps you meet potential customers, clients and vendors. The General Membership Meetings, Build Your Skills Workshops, Leads Group meetings and Business Networking expo programs provide great opportunities to get to know new people ‹ and expand your prospect base.

Market Your Products And Services
Take advantage of the Chamber¹s low-cost marketing opportunities such as the annual Business Networking Expo and License Bureau Display Sponsorship. You¹ll reach hundreds of business owners and executives, anxious to learn more about your products and services. Plenty of sponsorship opportunities exist through the Chamber¹s events, programs, website, and publications, too!

Invest In A Healthy Economy
When the Chamber assists companies that are relocating here or expanding their businesses, it means more jobs ‹ and more customers for you. Your investment in the Chamber helps to market Champaign County and promote quality growth.

Gain A Voice In Government
The Chamber speaks on behalf of business to elected and appointed officials and government staff members at the local, state and national levels. Your voice will be heard on important issues that directly affect your business.

Increase Your Presence On The Internet
Your business will be listed in the Chamber's online Business Directory, thereby expanding your market area even if you do not have internet access.

Get Involved
There's nothing more rewarding than volunteering your time and talent to make the community where you live and work a better place. As a member of the Chamber, you will help sustain and improve the quality of life that you, your family and your employees enjoy. Membership in the Chamber is an investment in your business future.

Heighten Your Company's Visibility
Announce your respect for your customers by displaying your Chamber membership decal in your business and on your website. Your investment in the Chamber gives your business credibility, visibility and marketability.

Learn New Skills For Small Business Success The Chamber provides services to small business owners. Programs are designed to help you start your business or help your business grow.
At the Chamber, you'll get the tools you need to help your business prosper.   Considering attending the Chamber's Build Your Skills Toolbox series.  These FREE sessions exclusive to Chamber members provide insight into ways to improve your business.  Topics in 2011 included Marketing, Customer Service, Discipline & Discharge and more!

Membership in the Chamber also includes…..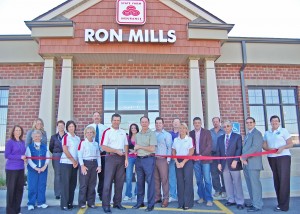 Business Referrals/Networking
Weekly E-Newsletters / Membership Meetings Economic Development/Tourism Involvment Employment Information Visitor / Relocation Information (Newcomer¹s Guide) FREE usage of Chamber Conference Rooms Gift Certificate Program Free Event/News Promotions in Newsletters/Other Chamber Mediums Discount Packages on various services Professional Development programs such as Leadership Troy Special Events including Troy MAYB Basketball, Experience Lincoln County Business Networking Expo, and more!
Ribbon Cutting Ceremonies / Groundbreakings

Stay tuned for the 2012 Investment Menu!!
Ready To Join?
Call the Chamber office at: 636-462-TROY (8769) TODAY!
or Apply Online, click here!
Visit our offices at 850 E Cherry Street, Suite A, Troy, MO 63379